Learn Business Mandarin as it's spoken in China
Gain insight into China business culture
Designed for learners who speak Mandarin as a mother tongue.
Mandarin for Business
Speaking Chinese in social situations and doing business in Mandarin are entirely different skills. As Singaporeans, we speak Mandarin with family and friends – but the more business-focused it gets, the more English sneaks into our speech.
If you want to do business in China or with Mainland Chinese, you won't have that option. This program is designed to get you comfortable expressing yourself fully in Mandarin during business situations.
Not a standard business Chinese course
We're not the only provider of Business Mandarin courses in Singapore. However, most other training institutes deliver training to large groups of 20 people or more.
In our small group business Mandarin classes, you'll have lots of opportunities to speak.
Our business Mandarin course may not be the cheapest option – we think it's more important to help you get the most out of your time investment!
More than language alone
To build successful business relations in China, language is only one part of the puzzle, with culture making up another important factor.
That's why our teachers are seasoned Chinese business professionals, who'll bring in the business context, and how things are done in China in every lesson.
The Facts: Business Mandarin Course
Minimum: 16 hours
Course Materials from Peking University
Small Group class of 4: S$ 20/hour
One-to-one: S$ 70/hour
You may claim your Skillsfuture credit for this course if you are a Singaporean.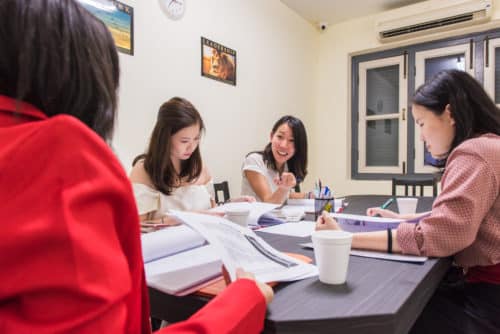 Learn Business Mandarin online
Learn Business Mandarin online at a lower rate than in traditional classes. The fees are lower not at the expense of quality, we simply pass on the savings in classroom rental to you.
1:1 Private Classes
1 to 1 class with a flexible schedule and location. Perfect for busy travellers. You will be assigned a dedicated trainer who will come up with a lesson plan and keep track of your learning progress.
Explore the benefits of Business Mandarin for global communication. This piece covers key business etiquette tips and the language's role in international business.