Learn Business Mandarin culture and language usage in China
Suitable only for students who speaks Mandarin as mother tongue
Gain insights into China business culture
Whether you are a Singaporean who grew up speaking Chinese at home, or have learned Mandarin from scratch at a later age, you'll recognize that conversing in Chinese and doing business are completely different skills.
Since the language of business and the language of instruction at schools here is in English, we often lack the appropriate Chinese vocab. If you have studied business law, or are working in shipping, you'll know what the term "FOB Shanghai" means. But what is it in Chinese?
And even if you have grown familiar with industry-specific vocab, direct translations can be deceiving. The Chinese business mind works differently and knowing the Chinese business context can be even more helpful than knowing the right words.
Our business Chinese course is focused on making business interactions in Mandarin easier. We will cover business Mandarin language and how business is done in China. To give you an idea, here are some topics that are covered:
How to introduce your company
Marketing strategy
business mandarin for banking professionals, Accounts and finance
Franchise operations in China
Human resources
This course is based on a carefully designed curriculum, which we crafted to be relevant to businesspeople with dealings in China. With individual lessons or ultra-small groups of four, we can dive deep into the idiosyncrasies of doing business in China.
If you have any specific interest, feel free to contact us to find out whether this course really covers exactly what you need.
Suppose you need to upgrade your Chinese specifically to your profession. In that case, we recommend our Business Chinese – Chinese for work, which is 100% tailored to your individual needs, whether you are a real estate agent, lawyer, marketing professional, government official or anything else.
The Facts: Business Mandarin Course
Minimum: 16 hours
Course Materials from Peking University
Small Group class of 4: S$ 20/hour
One-to-one: S$ 70/hour
You may claim your Skillsfuture credit for this course if you are a Singaporean.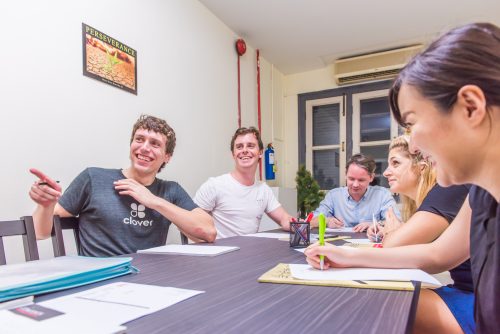 Learn Business Mandarin online
Learn Business Mandarin online at a lower rate than in traditional classes. The fees are lower not at the expense of quality, we simply pass on the savings in classroom rental to you.
1:1 Private Classes
1 to 1 class with a flexible schedule and location. Perfect for busy travellers. You will be assigned a dedicated trainer who will come up with a lesson plan and keep track of your learning progress.