"Candy, I appreciate your emails. Your message moves to separate fact from fiction. I understand you support small classes but there are many schools with large group classes and lesser fees as well. Your method seems to go in the opposite direction. Are you sure it is really effective to learn in a small group class?"
Regards,
Peter Samson
==== My reply =====
In general, there are two types of classes.
The traditional class layout and the Yi Mandarin small group class layout

The traditional layout emphasises more on the trainer teaching, with the students facing the trainer. An efficient layout for more students in the class
Most schools conduct the class for only 1.5 hours and there isn't enough time for practice and revision.
With more students, the fastest and the brightest get the most attention from the trainer, if you cannot catch up, you risk falling behind after the 2nd or 3rd lesson.
The trainer has fewer opportunities to discuss beyond the textbook topics as they need to complete the course within the allocated time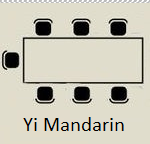 Yi Mandarin classes are a "tutorial" approach to learning
We run small group classes, in tutorial style for a higher quality learning experience. Classes conducted in tutorial style is more interactive and specific than a lecture.
The success lies in attending to the strengths inherent in teaching a small group of students. We further reinforce the advantage of our small class size by shifting our role to that of a facilitator, of discussion rather than an instructor.
Students sit facing one another to further facilitate discussion and cross training.
I'm not sure about other courses but for language learning, a trainer could never teach effectively to a class of 10 - 15 students.
How do we focus on the weaknesses of each student? Especially for Mandarin, when students spend a lot of time learning to pronounce the words.
Does he/she even have the time to take in questions from the students? 15 students each ask a question, each question takes around 5 minutes to be resolved. That is 75 minutes gone, just by answering questions.
In a small class, trainers' enjoy teaching as much as the student enjoys learning.
Some students will be intimidated by the experience as they are not used to small classes when the trainer could focus on them every time they are there.
But to a serious learner, the attention is good. Some told us that they have learned more in 12 lessons than the 2-3 years of learning in other schools.
It doesn't cost you much to experience our classes.
In fact, it is free because we organise free trial classes once or twice a month.
If you are interested, just click here to check out the latest trial class dates
We look forward to helping you.